Mahalle Vertical
---
Design: Aras Burak
AA Diploma 9 (2009-2010) Natasha Sandmeier, Monia de Marchi
For more information check: Mahalle Vertical Book by Reading Office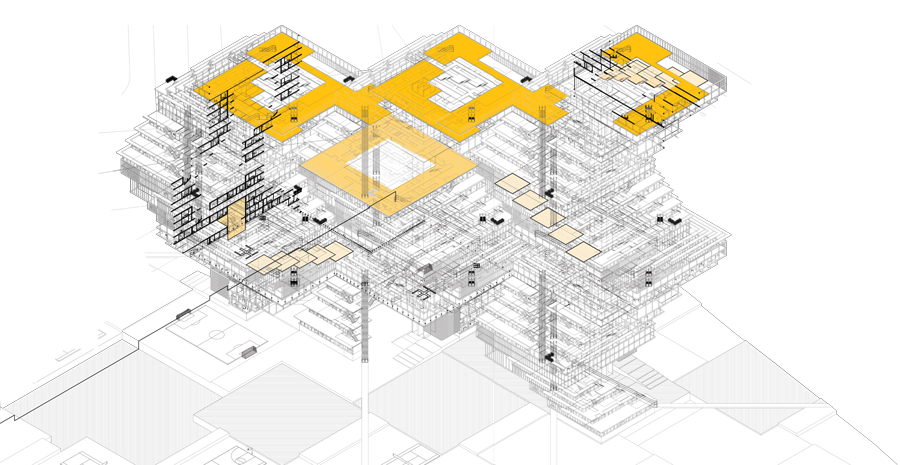 Mahalle (noun, Turkish): 
The semi-public sphere between a dwelling and the city in Turkish culture.
Social Manifesto
Our design aims to offer the mahalle life in a skyscraper.
In order to achieve the mahalle quality, we need single, two, five stories high ceiling spaces and street like circulation that allows by-passing certain parts of the building in the sky.
The spaces we are proposing are indeterminate. Our job is to offer the great spaces with no imposed carefully scripted occupation of it.
The potential for such spaces in vertical is going to inspire, result in the celebration of high rise again in 21st century.

High-rise Manifesto
Complex Floor Plan Repetition
The tower is shaped by bundled floor plan repetition. The generic skyscraper is a repetition of a single floor plan. We believe there is an opportunity to expect more from a high rise  by making thus repetition complex.
In Mahalle, five floor-plates form a single bundle and this group gets repeated by rotation by 90 degrees around the elevator shafts each time.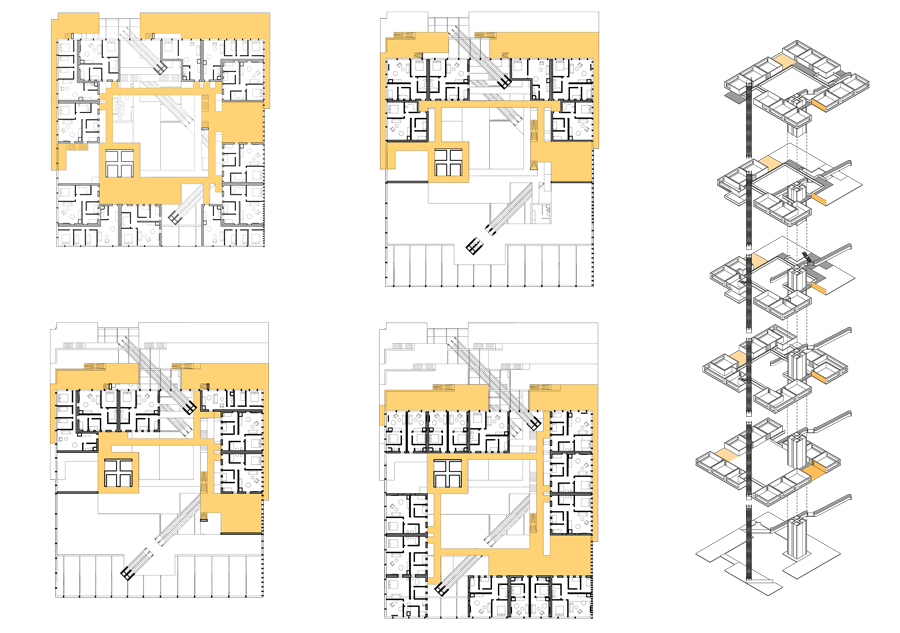 Multiple Ground Levels
Ground level in a skyscraper is taken for granted as flat. Cities like Tokyo, Istanbul, Lisbon, San Francisco are not flat. We are struggling to adapt the New York skyscraper to the cities with strong topographic character. Despite this feels like a disadvantage, the topography can let us have more than one ground levels. In the case of Mahalle tower, the tower connects Golden Horn with Okmeydani district, creating 7 different ground plates.
Floor Elimination
In Shibuya – Tokyo, department stores bridge between buildings, each building is a shared indeterminate frame. This condition creates a democratic use of the high rise. One store can close earlier than the other and the building can still be open to public by a more complex circulation system.
Walkways and staircases wrap, are placed around department stores allowing floor elimination. Mahalle takes this a precedent. One could skip any compartment using the escalator or lift only.