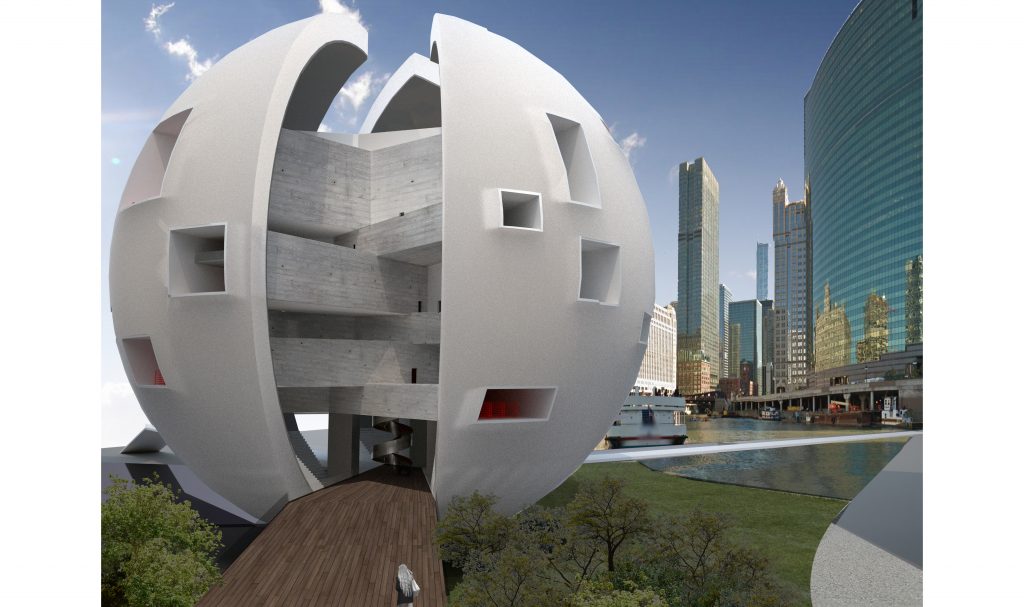 PROJECT TEAM:
PROJECT INFORMATION:
Location: Chicago, IL, United States
Type: Competition
Award: 1st Prize
Client: CAC Chicago Architecture Club
PROJECT DESCRIPTION:
The building will host records of Barack Obama's era for his presidency of the United States. Every level is storage, gallery, and office space for a specific year. Stacked on top of each other forming the complete archive of the Obama era.
The Bridge of Hope is shaped as the peace sign connecting three sides of the river. This is the first year of Obama in office. The levels above this bridge are the distortion of the hope in random directions. The form of these floors could be seen as the artifacts of an era; struggling to do something great when it is impossible to do so. The distortion of great hopes.
Eight years of the presidency is archived in the sphere, each side on every level opening towards a different view in Chicago. Each level has a different ceiling height in order to accommodate different programs. Some levels have a mezzanine floor when there is a relatively higher number of documents to store.
Circulation is provided at the heart of the building plan, from the ground until the top floor with a spiral staircase. Floor plates are supported by cores, hosting the elevators for the building as well. The time travel is continuous as one walks up the stairs from the ground level, up to the roof.
The amphitheater is the base of the building that is introduced to the presidential libraries by us. Democracy is only meaningful when anybody can say anything without getting punished for it. Therefore without any glass, without any walls, Obama Presidential Library provides a free amphitheater for Chicago to communicate, discuss anything. The Bridge of Hope cuts through the theatre, looking above discussions being held, allowing them to be overheard. The unexpected contribution of the public is possible while crossing the bridge. Enabling the disturbing incidents that the speaker and audience have to bear.
Obama Presidential Library stands on the edge of Chicago as an artifact of a very specific era in a timeless and monumental way. It is an archive, a true public and active building, unlike many other presidential libraries that is no different than a mausoleum for its president.

Categories:
Skills:

Share Project :