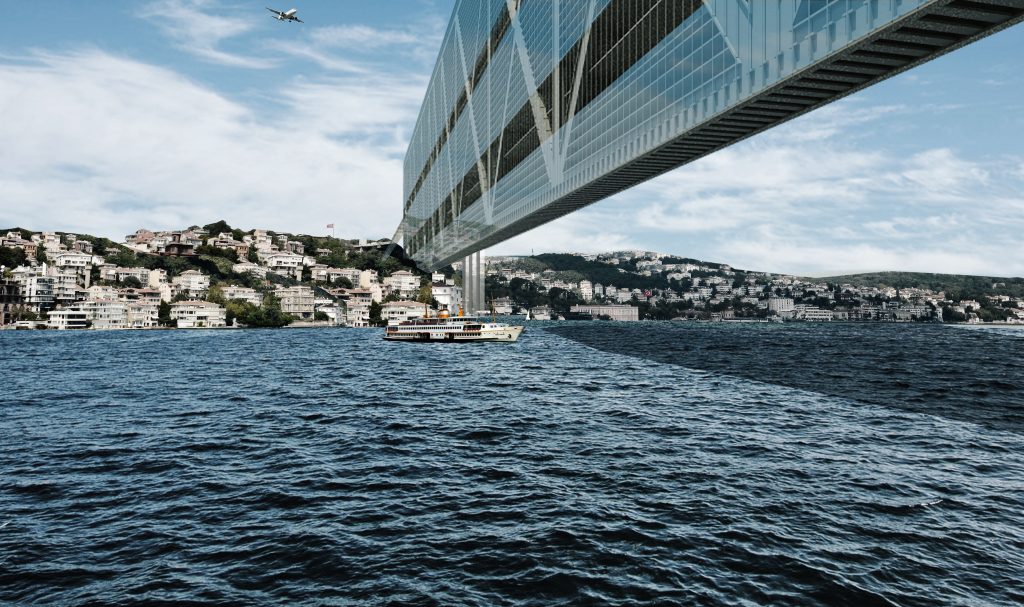 PROJECT TEAM:
Architects: Aras Burak
Engineers: Aris Kozmidis / ARUP
PROJECT INFORMATION:
Location: İstanbul, Turkey
Type: Competition
Client: Evolo
PROJECT DESCRIPTION:
Spanscraper connects Europe to Asia.
The highest value of the land in Istanbul is right next to the Bosphorus. Therefore Spanscraper responds to the demand by its 220m height and 2km span as a new skyscraper typology. 
Instead of proposing an isolated luxurious residential, leisure-programmed building as a skyscraper, we are interested in creating an urban structure that spans Europe and Asia. The Spanscraper acts as a transportation hub for Istanbul, right next to the existing Fatih Sultan Mehmet Bridge in Istanbul connecting Beykoz to Hisarustu district. 
The city's need for the new bridge is the main driving force behind the idea of the Spanscraper. Instead of building a new bridge in the north where the last truly green zone of Istanbul is – which is the current proposal under construction as we are submitting this project – we propose to use the urban fabric we already have in a denser way using a site right next to the existing bridge by choosing a site near the existing Fatih Sultan Mehmet Bridge (Commonly referred as the 2nd Bridge).
The Spanscraper hosts two ferry terminals at the two ends of the building where the footprint corresponds with the water and two levels of a highway bridge in two opposite directions, a train station level and an airport at 220m height. Six elevator shafts uninterruptedly run between the ferry terminal, the bus stop, train station, and the airport on different levels.
The form of the tower starts from the narrow edge and gets wider to the top of the building where the runway for the airport is located. The front of the building is flat as the face of the building towards the historic city. The decision of the front vs. back face is intentional for marking the end of the urban fabric in the form of a wall for Istanbul via Spanscraper. The front face also acts as an information screen for the city where announcements can be made and mourning, celebrations can be projected. The thin bottom edge of the tower creates a pleasing vista for the bank of the Bosphorus when one looks up despite the incredible density building hosts. 

Categories:
Skills:

Share Project :