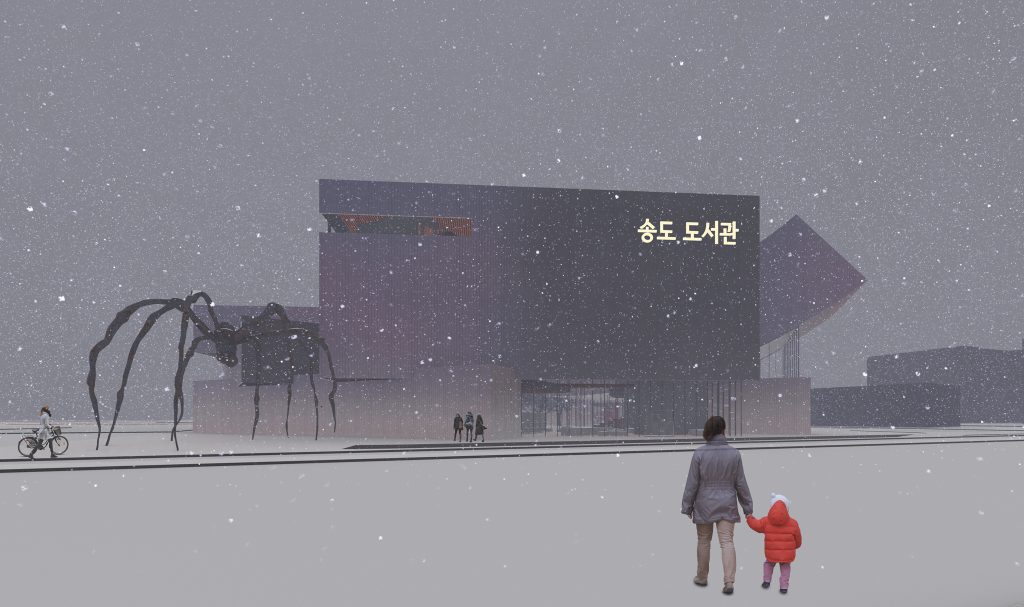 PROJECT TEAM:
PROJECT INFORMATION:
Location: Songdo International City, South Korea
Type: Competition
Client: Songdo International City
Plot / GFA: 9,427m2 / 9,565m2
PROJECT DESCRIPTION:
The Garden of Knowledge concept emerges from a lush courtyard concept surrounded by books and generations living with them. In a reclaimed land area in Songdo International City, between wide motorways and boulevards, the project site is part of a linear culture and education urban island.
The links between the site and its neighbors from the northern edge of the site is the most important connection to consider. The high-rise residential buildings are also part of this relationship with the north. Therefore we have proposed the front facade of the building to be on the north where vehicle access and a sculpture park/plaza will be located. These two corners of the site will ensure a strong flow between education buildings surrounding the library.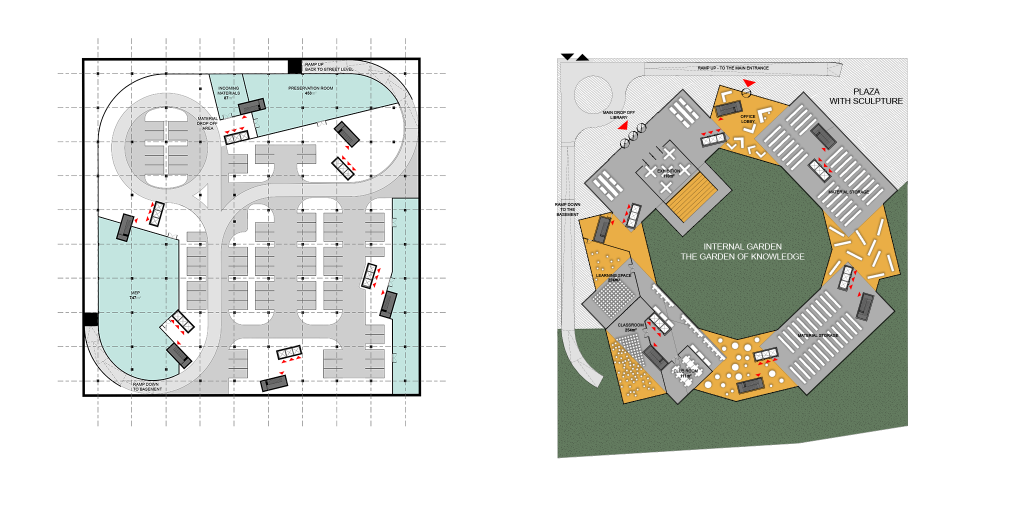 The inward-looking library building will celebrate the Garden of Knowledge where reading, resting, eating, socializing will occur as an extra to the library program. The heavy storage for the material is mostly solved on the upper levels freeing the ground level for children and social activities, teaching, and exhibitions.
The peak of this celebration is an auditorium space we have proposed. This space will not only serve for official talks, but presentations will also be a place to take your laptop or book and spend the day quietly in a tunnel-like space, where one end displays the lush garden like a full-screen movie theatre, the other end pointing to the sky – receiving northern daylight, comfortable for inhabitation.
Under the auditorium, the first floor drops down to ground level with a staircase-seating zone, this area also has a spectacular view to the lush Garden of Knowledge, providing a workspace, reading space for the users when the auditorium is occupied.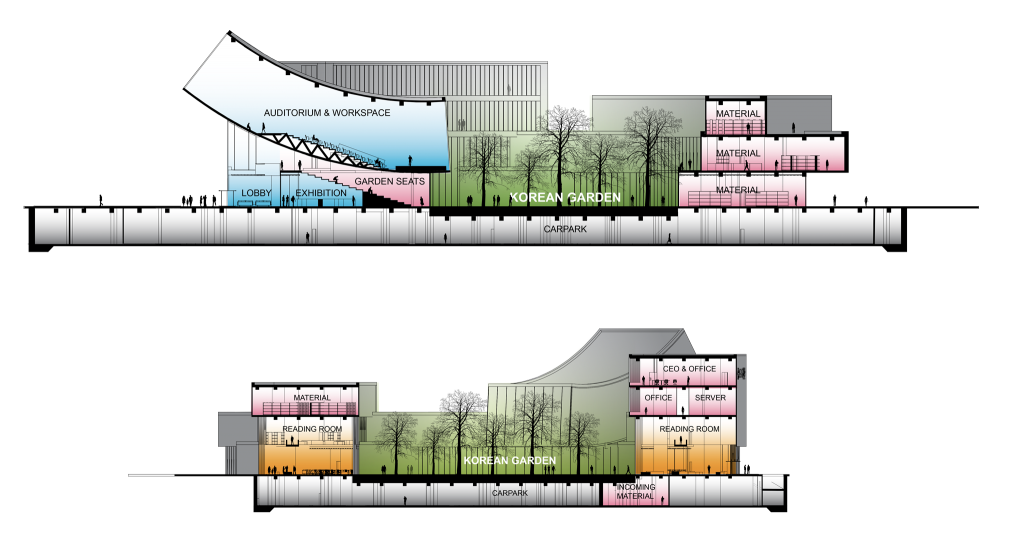 The building forms a circular internal space, creating a loop for circulation. This circular connection is formed by brick-like masses laid on top of each other stack. The in-between spaces for these boxes are used for informal workspaces, meeting points. The block is always static – material storage, reserved for the pure program. The negative space allows flexibility, mixed uses.
The office space for the library has an independent entrance on the street frontage, with a core connection to the car parking, allowing office workers to have direct access to received material and storage spaces.
Most of the educational program is placed on the western side of the library building, this linear space has maximum flexibility by using curtains, glass divisions, allowing its users to divide the large space as much as they want – or use it as one single space for bigger events.
We believe the Garden of Knowledge symbolizes culture, generations of humanity, patience to raise, take care of living things, that will have the potential to become part of the local story of the library. A landmark, destination for social life in Songdo International City.

Categories:
Skills:

Share Project :